SHOOT THE INVADER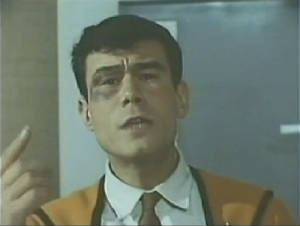 THE PLOT:
Ito tells the story of how he got a black eye. It begins like any other night. An emerency call brings wakes them from a sound sleep. A UFO was spotted in the area of the science center, One disappoears while investigating. Ito and Hiata are sent to communicate with the strange alien to find out what the creature wants.

The creature is one of 20 billion microscoptic aliens hidden in an invisible ship. The last survivors of a dead world, the planet Baltan. The Baltans want Earth and will make mankind slaves if Ultraman can't stop them.
THE OPINION:
A very good episode, with some cool writing and dubbing. The Baltan monster is a very cool design and all and all is very cool.
THE BREAKDOWN:
STORY: 10.0
ACTION: 10.0
MARTIAL ARTS: 10.0
BALTAN: 10


OVERALL FOR EPISODE 2:
10.0